VVhy vvere scribes so vnimaginative?
The Catholic aggregator Big Pulpit
has started using real Latin, and Latin orthographic habits, for subject headings: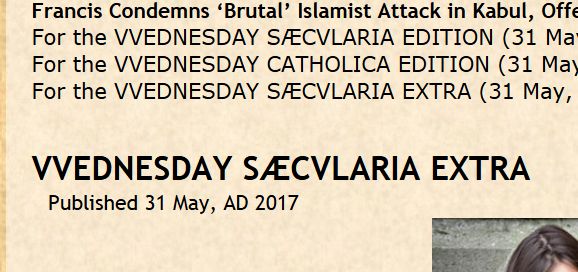 Cute idea. Grabs your attention and makes the point that Latin is the universal language of Catholic Christianity. Seeing the VV thing led to a question. Why were Romans unwilling to create new symbols? When they colonized areas that had non-Latin sounds, and later when Latin itself adopted some of those sounds, the scribes refused to make new symbols. They simply overloaded existing symbols, or used arbitrary combinations of existing symbols. Same with numbers. They stuck with I V X L C D M for numbers; using separate number symbols might have opened minds to place notation earlier. Big point: THERE WAS NO REASON to restrict the symbol set. Roman scribes from 300 BC to 1400 AD used pens. A pen can draw any symbol you want, limited only by time and efficiency. When printing came along in 1400, symbols had to freeze in place so that printers could rely on a standard typecase. When telegraphs arrived in 1830, the restriction got even stronger. Typewriters in 1880 tightened the grip more. We stayed in typewriter mode from 1880 to 2000, so we couldn't properly imagine an unlimited symbol set. Restriction was the default, the water in the fishbowl. Now Unicode is opening the bowl slightly; emoticons are pulling in the direction of ideograms; an expansion of SVG could break the bowl, but it looks like SVG isn't growing or flourishing.
Labels: Asked and unanswered, Language update