Since when?
Listening to the
latest "growth"
by Trump, who is rapidly shedding his purported agenda to become a slightly less masculine version of Hillary. I'm no longer annoyed. In fact I'm sort of relieved that the waiting and hoping is done. I gave up on USA STRONG
48 years ago,
and I've been solidly with Russia since ....
Well, since when?
The nice thing about keeping a blog is that changes of attitude are searchable. There might have been some internal adjustment earlier, but my switchpoint is easy to find in the blog archives. I've been solidly with Russia since
November 2010.
Here's a verbatim reprint of the evidence:
= = = = = START REPRINT: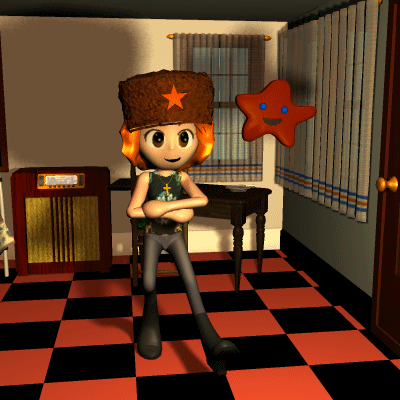 Polistra and Happy[red]Star are enjoying Medvedev's
visit to the Kuril Islands.
The Kurils were claimed by Japan (along with just about everything in the Pacific) in WW2. Russia reclaimed them after the war, and they have been inhabited by Russians since then, but Japan has never given up on its official claim of territory.
Medvedev first announced his desire to visit the Kurils a month ago. In response, the Japanese Foreign Ministry [warned that such a trip] would seriously endanger Russian-Japanese relations. It is believed that after the strong statement from the Japanese side, Medvedev had no other choice but to visit the islands.
What a primitive concept: a leader defending his own country when an adversary makes angry noises. We've advanced beyond such Neanderthalism. Under Glorious Bush-Obama Dynasty, our Dear Progressive Leaders always have another choice!!!! Under Glorious Bush-Obama Dynasty, we bow and scrape and surrender when an adversary frowns. Or even before he frowns.
Russian Foreign Minister Sergey Lavrov has called Japan's reaction to Medvedev's visit unacceptable. "This is our land. The Russian president has visited Russian territory, a Russian region. We have explained this to our Japanese partners. Today we're going to invite the Japanese ambassador here in Moscow and we will make a clear statement to reaffirm our position unequivocally," Lavrov announced at a news conference on Monday.

Following his visit, Medvedev posted a photo of Kunashir Island, calling it "a pretty Russian sight".
Nice.
Anything that annoys the Japs is good. They got away with raping their side of the world for 40 years, and even after Hiroshima they still haven't admitted they were wrong.
Despite their beautiful nature and rich mineral and biological resources, the Southern Kuril Islands have been neglected by Soviet and Russian authorities for many decades.

For this reason many Kuril residents have long been feeling almost abandoned, but President Medvedev stressed the strategic importance of these territories and made it clear that his goal was to turn things around.

Early on Monday, the president arrived on Kunashir Island, where he met the locals and visited several construction sites and public institutions.

Kunashir is the largest and the most populated island, being home to almost 6,500 Russian citizens. Together with three other Pacific islands, it was taken over by the Soviet Union 65 years ago, but the tussle to define its national identity still goes on.

There is a big cross standing on the shore of another Kuril island of Shikotan. It appeared a few years ago, soon after the Russian Orthodox Church opened its parish there.
Whoda thunkit? Russia is now the country that holds and expands territory
for Christianity,
while America deletes crosses from public land and builds mosques with taxpayer money.
= = = = = END REPRINT.