Megachurch mediocrity
Good Catholic writers often
defend
traditional art and music along with traditional worship, as a
framework
that helps to keep believers in line with Natural Law. It's a strong and valid point. They sometimes compare Roman worship with the more casual and less classical Protestants. Evangelical megachurches are especially prone to relentlessly mediocre "Christian rock", as expertly parodied by
Babylon Bee.
Was this difference true in earlier times? I found
this schedule
for Aimee Semple McPherson's radio service in 1924. Based on mainstream bigotry I was expecting to see hillbilly music...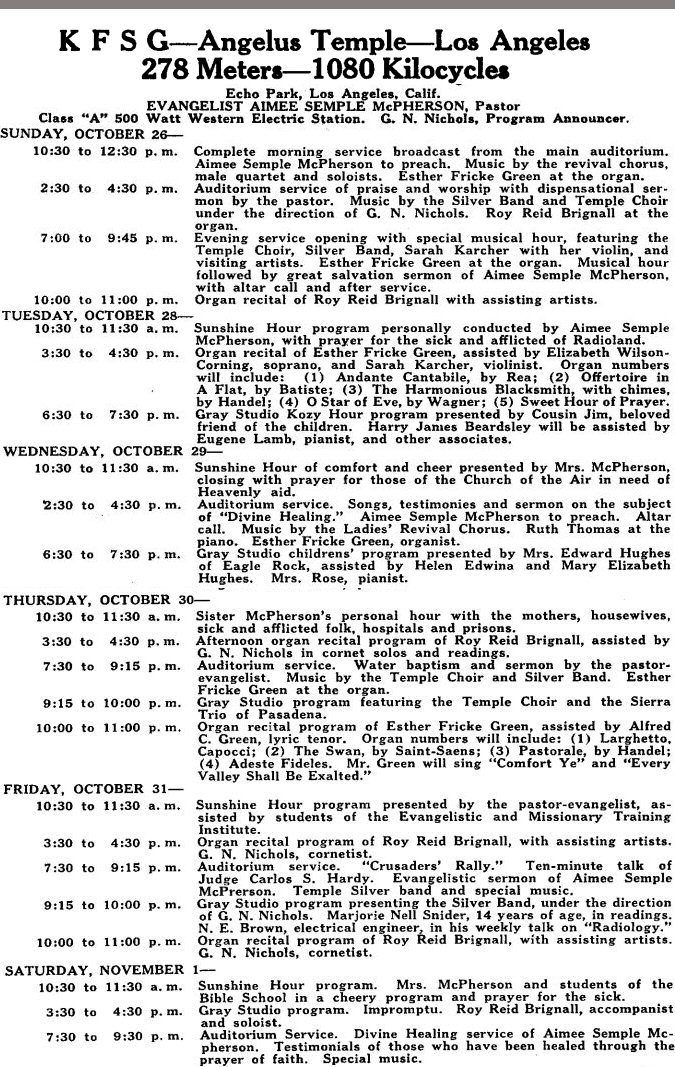 Nope! All classical with only a few old favorite hymns. Next to Aimee was a broadcast schedule for a more upscale church, with exactly the same combination of classical and old faves. The mention of "NE Brown, electrical engineer, with his weekly talk on Radiology" is intriguing. Haven't been able to trace this down yet. Obviously not Radiology in the modern sense of X-ray analysis; sounds more like Brown was building a metaphor between electronics and religion? /// Later partial answer: Brown was locally famous. He ran an engineering consultancy in LA, designing broadcast facilities. Still no info on his weekly lecture.
Labels: Asked and answered