Almost happened
Another 'why didn't it happen then' question. What we think of as the Web first started in 1830.
The English telegraph system
was meant to be a net of households and businesses, with a keyboard and printer in each connected house. This didn't go very far, for reasons that aren't clear. Morse intended to set up the same type of system, with businesses and households directly connected. Again for unclear reasons, he quickly settled into a commercial arrangement with telegraph stations acting more like post offices. Several Euro countries took the analogy the other way, with telegraph systems based IN the post office. When the Web finally developed again, some of those countries expanded the postal telegraph into the postal web. Here's an odd half-baked effort by the US Post Office in the 1920s.

The Air Mail Radio Service, initially just to keep track of air mail planes, then ambitiously expanding toward a full net of electronic communications based IN the post office.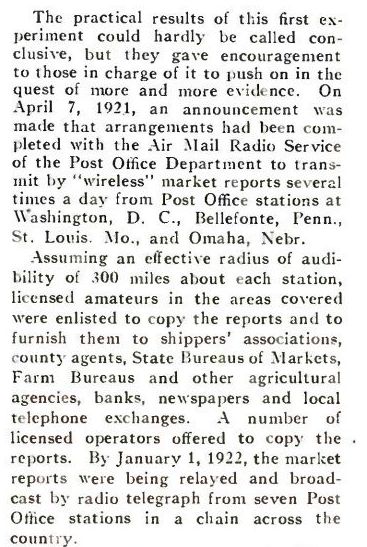 A couple years later, the system was running weather and farm reports. Nothing beyond this point; the system appears to have faded out as radio became exclusively commercial.
Labels: Alternate universe, Asked and unanswered