Shouldn't be astonished
I try to avoid Sorosian input but sometimes I end up tuning into BBC out of sheer boredom. They occasionally run an interesting feature on economics that wouldn't be heard elsewhere. Not this morning. They're spending a full hour giving SPECIFIC TACTICAL COMMANDS to Sorosian saboteurs in Britain and USA. I shouldn't be shocked, but the open audacity of this SPECIFIC INSTRUCTION runs beyond previous bounds. Axis Sally. = = = = = BUT: The front page of BBC's website shows signs of a hasty backpedal. For the last few weeks the front page has been solid Soros. Every single item SHOUTED TRUMP'S UNPRECEDENTED UNAMERICAN KKK HITLER HITLER HITLER TROLL CRIMES AGAINST HUMANITY HITLER HITLER HITLER HITLER!!!!!!!!! This morning: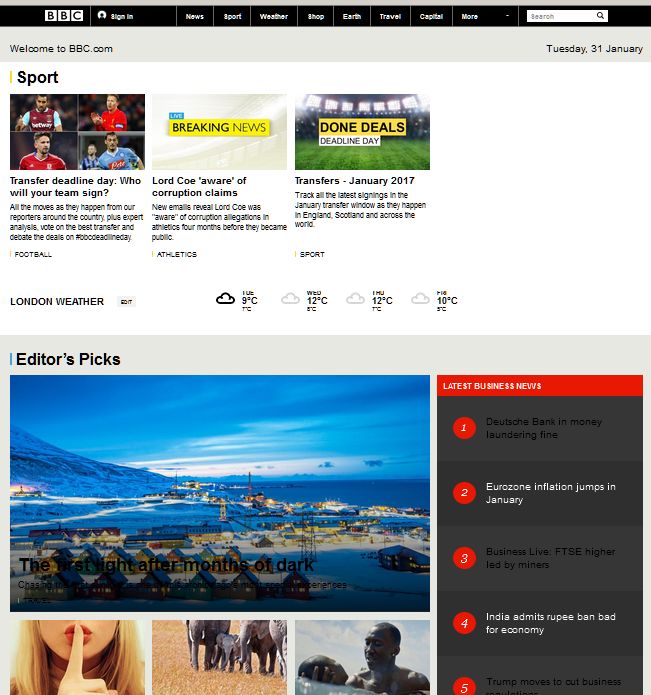 No news at all.
The page starts with Sport and goes on to the usual set of features, cooking, cars, etc. Could be a glitch, could be a sudden order from the May administration. Expect the former, hope for the latter. Later: the news section returned, but without the hysteria. Trump's slight alteration in Obama immigration policy is just one headline among an appropriately balanced set of world headlines. Must be an order from above. GOOD.