Wasted calibration
Latest item at KSHS
hits a metrology theme.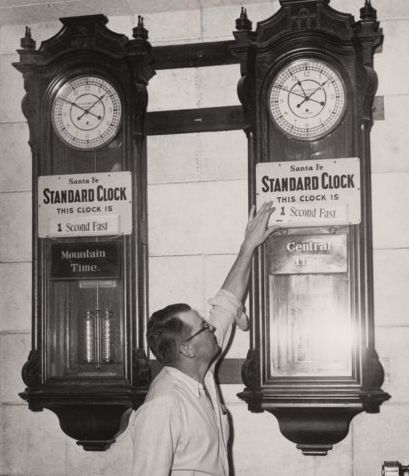 KSHS says:
This is a photograph showing an Atchison, Topeka & Santa Fe Railway employee checking the standard mercury clock. There was at least one clock in every room and hallway of the railroad division's office, each of which was checked daily against a report from the U. S. Naval Observatory. The daily check required three minutes, and any deviation from the absolute accuracy was indicated by a card displayed prominently on the front of the case.
KSHS estimates the picture is from the late '40s. Looks more like late '50s to me from the man's glasses and clothing, but I'm usually wrong about such things. 'Mercury clock' was unfamiliar so I
looked it up...
it's just the usual linked system of master and slave clocks, with a switch on the main pendulum driving the escapements of the linked slaves via solenoids. The switch in this case is a mercury tilt-switch, presumably for less mechanical bounce and friction than a mechanical contact. The calibration is nicely done but useless. The clocks are so high above eye level that parallax ruins the seconds and minutes readings.
Labels: Metrology