Why were farmers special?
Before 1960 local radio stations, even in big cities, spent a LOT of time serving farmers and agricultural occupations. Early morning typically featured one or two hours of market reports, detailed weather reports, advice from the local extension agent.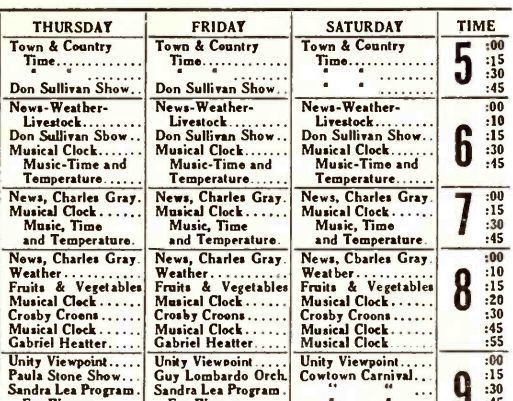 A little piece of the WHB schedule in 1953. From 5AM to 7AM, Town and Country, Livestock. The rest of the daytime was aimed at housewives. After 1960, farm coverage disappeared along with all other adult programming.
As abovementioned,
most AM stations gave up on adults entirely and switched to The Teen Market. WHB became KC's rock-n-roll specialist. In percentage terms, farmers were already rare in 1920 when radio began, and got sparser every year. Industrial workers replaced farmers as the majority. Yet radio NEVER had programs focused on industrial workers or salesmen or grocers or
any other specific occupation
, until the '70s when late-night radio discovered truckers. At least one NYC station seems to have been run by and for unions, but that's the only exception. Personal sidenote: I used to listen to WIBW's farm report around 1959. WIBW had
four hours
of ag-related coverage each day. Their theme music was the rousing but obscure Marche Lorraine. This version sounds about right: The piece has remained in my earworm rotation ever since, though I didn't identify it until recently.