Grinding to a halt
Ten years ago Polistra noted
a modern tendency.
= = = = = PARTIAL REPRINT FROM 2006: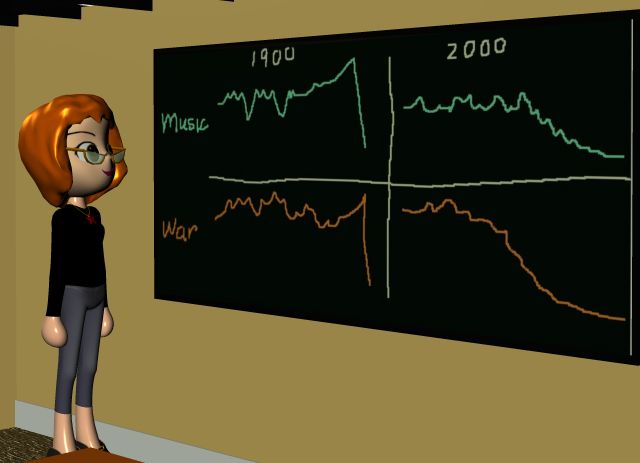 Professor Polistra has found an interesting pattern. She has no theories about its cause, but believes we need to pay some attention to it nonetheless.
The problem: we are infected by Fadeoutitis. It's visible in several different realms.
Compare pre-1900 music with today's music. A piece by Schütz, Bach or Mozart has a beginning, middle and end. You know when the end is coming, and you're satisfied after it happens. In some cases a climax of intensity precedes the end, but there's always a climax of expectation for the careful listener.
Nearly every song recorded since 1955 is asymptotically endless. The last bit repeats over and over and over and over and over while the sound fades out.
-----
Same with literature, though the change happened later and less completely. In the
lesser
genres like Spy and Scifi, classicism still prevails, and you can locate the end of the story. But sometime around 1980 the fade took over in the 'Literature' section.
A good modern novelist offers fascinating characters, believable dialog, sparkling prose, deep insights, and well-formed plots, up to a point that seems to be 20% short of the expected end, where the book simply
= = = = = END PARTIAL REPRINT.
Grinding to a halt is characteristic of learned helplessness and depression. I've been fighting it for many years with considerable success. You have to see it coming and GRAB THE WHEEL. Stand. Walk. Move. Move move move move move. Do something that gives you at least the SENSE of being in CONTROL, even if you know objectively that you're not going to beat the weather or the bureaucracy. You will often be surprised. Bureaucracies and other bullies often give way when they encounter serious resistance. It's especially striking to see a grindout among
non-depressive high-status extroverts.
Two current examples: Trump and May. Trump started out firmly and decisively, and now fades into the Long Meaningless Twilight Of Bushism. May started even more urgently, doing everything right. Kicking out the obstructors, creating new departments. Now she has ground to a halt. = = = = = Fade-itis has spawned a variant, which might be called the Induced Coma. When a project is moving firmly and fadelessly toward a proper conclusion, SorosSatan uses lawyers or other bullies to halt the forward motion
without killing the project.
Suspended animation. Zombie. Two unrelated local examples forced me to focus on this trick.
(1) A house
being rebuilt quickly and conclusively after wind damage was stopped in its tracks when the contractor saw the EVILLLL ASBESTOS NAME of Johns Manville.
(2) Our idiot "mayor" Condon
came to life briefly, pulled OUT of an unending Selection Process and CORRECTLY appointed the currently serving interim police chief as permanent chief. The copkilling "Council" immediately checkmated him and re-imposed the unending Selection Process. The Induced Coma is the worst of all worlds. When your project or leader is properly and firmly halted or killed or removed from office, you can START FRESH. When your project is stuck in a coma, you can't start anything new. You're still committed financially and legally to hold onto the current project or leader, so the paralyzed project or leader paralyzes the entire enterprise or country. = = = = = Are there counterexamples? You bet. The governor of North Carolina REFUSED to dissolve when the Sorosians tried to force him into a standstill. He held firm while various satanic corporations made their threats. Now his firmness is vindicated, as one Federal JUDGE (not in quotes) has ruled against Obama's evil. Other governors collapsed quickly, so their initial efforts were FUTILE. Erdogan faded to dark for a couple years, then came roaring back into ACTION when SorosGulen ran a coup against him. Now he's making ALL NECESSARY MOVES to rip out the Sorosians by the ROOT. Literally radical. Putin wasn't zombified by SorosEU sanctions. He continued with his PROPER AND CORRECT policy of DEFENDING HIS OWN PEOPLE. Orban in Hungary and Fico in Slovakia decided to DEFEND their countries from SorosEU. They ACTUALLY BUILT FENCES and ACTUALLY SENT SOLDIERS to patrol the fences. They didn't allow SorosEU to zombify the process. Now their people are NOT being raped and bombed. Their people are SAFE.
WALLS WORK.
Most of these examples are outside of Satan's lands. I don't see much hope on this side of the Curtain. But there's definitely hope for the world.
Labels: defensible spaces