Beak peaks
Via RCS:
Many animals feed on seeds, acorns or nuts. The common feature of these are that they have shells and there is no direct way to know what's inside. How do the animals know how much and what quality of food is hidden inside? A simple solution would be to break the shells, which often takes time and effort -- it would be a big disappointment to know that it's rotten or bad after the hard effort of opening the nuts! Can animals evaluate the food hidden inside the nuts? This is especially important for some animals who cache the food items for later use without opening and checking each item. We can detect which one is heavier by moving the items up and down several times and focusing on the "feeling of heaviness" we perceive.
Well yeah, birds judge the weight of a nut and take the heavier one when given a choice. That's hardly worth the trouble of an experiment. But the birds are clearly doing something more interesting to judge the hardness or softness of the contents, and the experimenters didn't bother to test this with variables/constants.
When they shake the nuts in their beaks, the birds produce sounds by opening and closing their beaks around the peanut shell for brief moments. The researchers think that the jays also take this sound into account. "Our next goal is to disentangle the role of sound relative to the perception of "heaviness"...
I'd guess the birds are not
producing sounds
by opening and closing their beaks. More likely the birds are
analyzing sounds.
They're changing the size and shape of the resonator while creating transients by rattling.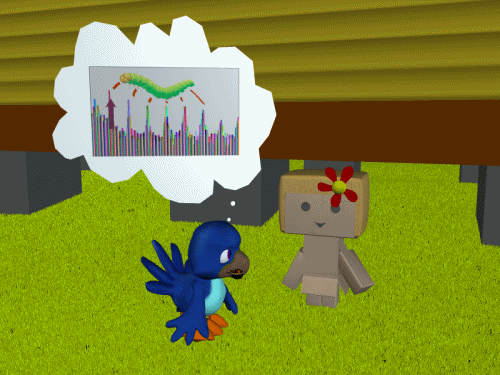 Running a spectral analysis on the nut, finding peaks and troughs. A peak that happens at
this
jaw position indicates a good solid nut, or a peak at
these two
positions means a worm inside.