Bad cliche 1
Listening to an 'answers' program on EWTN, the Hail Mary Hail Mary Hail Mary network. One of those old and dumb questions about forgivable ignorance vs unforgivable ignorance. It's dumb because we can't claim to know what God thinks about these matters. We do know what God created. Science has finally discovered
Genesis,
though science won't admit it. We do know what God wants us to do, from experimental evidence gathered in Leviticus. But we have no evidence at all (yet) about the afterlife, and the various sections of the reference manual offer no consistent guidance. So all of these refined and detailed distinctions are pure guesswork. Nevertheless, the Answer Man gave his platitudinous guesswork with great certainty. "If a child born in Papua New Guinea dies before he's baptized, he's forgiven. He never had a chance to learn about Christ." Whoooopsie! Chart from
Pew surveys,
after a bit of scrunching to leave out columns that are zero for Papua.....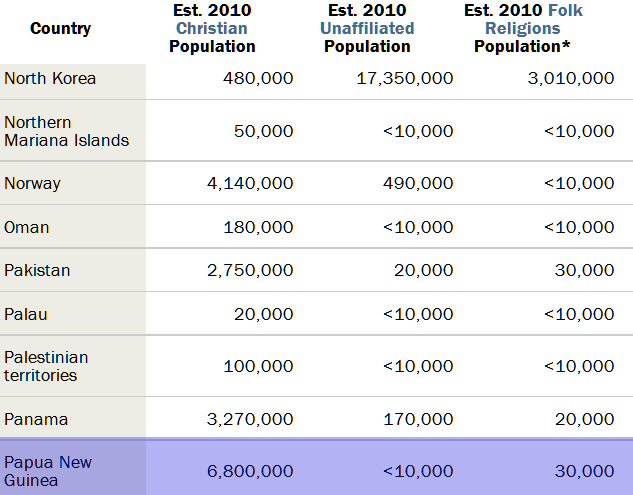 PNG is a TOTALLY Christian country. Every denomination has thousands of churches, and PNG has
dozens
of Christian and Catholic radio stations. You shouldn't be worrying about the kid in Papua. You should be worrying about a kid in New York or London or Berlin or San Francisco. In those
genuinely
primitive places you can pass through your entire life without encountering a single indication that Christianity exists. Such indications are strictly illegal. In fact your only chance of hearing the word is an accidental meeting with an immigrant from Papua or Ouagadougou or Timbuktu or any of those tritely 'primitive' places. The immigrant will be full of joyful living Christ, and will be happy to tell you about it.
Labels: Grand Blueprint, Natural law = Sharia law