Cities can recover
I was thinking about Microsoft's latest dumb move. Picking 10 instead of 9 for the new version. This is explicitly superstitious, but it's THE WRONG SUPERSTITION! Most computer programs tend to alternate between bad and good versions, at least until they reach
Peak Version.
After that it's all decline. For Windows the odd versions have been good and evens have been bad. It's a little tricky because they weren't always officially numbered; but the alternation has always been there. If you are INVOKING superstition, as Nadella is doing, you should invoke it correctly. He wants the new version to start with good karma, so it should be 9 or 11, not 10. Nadella's decision is like building a hotel and skipping the 12th floor instead of the 13th. For some reason this reminded me of Enid's Broadway Tower, which was my first experience with a skipped 13th. I lived in Enid through most of the '70s and visited often through the '80s. Enid was in terminal decline. In the '70s downtown was dying; in the '80s downtown was absolutely dead and unrecoverable. The inside of the Broadway Tower was nearly empty. A ghostly place where most of the floors might as well have been the 13th. One floor was occupied by the abandoned studios of KGEO, Enid's brief attempt at a TV station in the early '50s. Nobody had needed the space since then. What does downtown Enid look like now?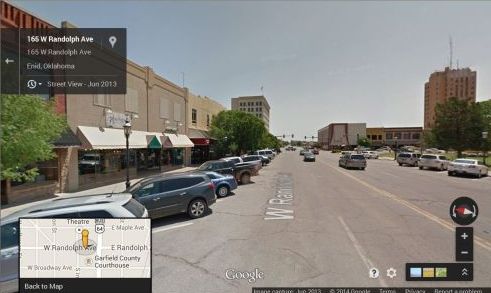 All the buildings are occupied and all the parking spaces are full! (Broadway Tower is upper right.) Remarkable resurrection, after 30 years of civic death. Even the parts of downtown that had always been slummish
before
the decline are bright and full and bustling now. You couldn't use Enid as a location for Dillinger now. What's going on with the Broadway Tower?
It's a bright new hotel/business center!
Cities CAN recover. = = = = = Irrelevant sidenote: Among my friends and relatives in Enid in the '70s, I knew that all but one had either moved away by 1980 or died later. The one exception had found a real niche in Enid, as a hard-working family man and a locally successful rock musician. I'd been wondering if he was still alive because rock musicians tend to live fast. Streetview answered the question! Still very much alive!