Time zones and crotches 4
As long as I'm pushing this stupid title beyond its limits, might as well exhaust the possibilities. Grocery stores have been running wild with 'inflation by deflation', holding prices steady while shrinking packages. They assume, accurately enough, that most people aren't good
metrologists
and won't keep records of baselines. Well, I haven't been keeping records, but I realized that my
house
has been keeping a baseline record, a visible timeline, on the deflation of toilet paper!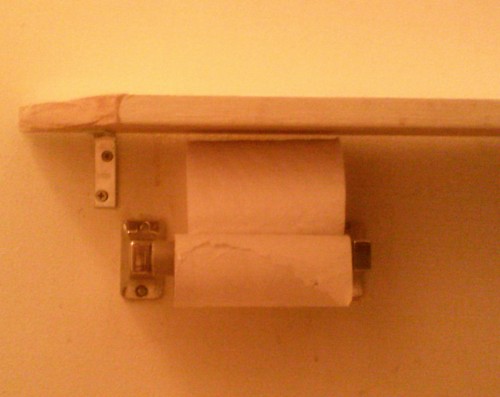 When I moved here in 1991, toilet paper rolls filled this holder completely. It was hard to pull the paper because the roll rubbed the sides of the holder. In 2008 I decided that installing rolls was unnecessary labor. Using a free-standing roll is more efficient. At first I balanced the roll on top of the holder, then
built this shelf
to hold several rolls. The last almost-empty roll on the holder never got removed, so it shows the width of a 2008 roll. I put a new roll between the holder and the shelf to take this picture. You can see three distinct lengths in one picture. The holder represents 1991 and all previous years. The empty roll on the holder represents 2008. The new roll is 2014. Each step is a one-inch decrement. Auto-timeline.
Labels: TMI, Zero Problems