Another Dust Beul?
Here we go again. BBC "reporting" about drought conditions "rivaling the Dust Beul" in the Oklahoma Panhandle, which they call the Euklaheumer pnHANdle. Of course BBC, and the academic loonies they interview, are DEAD CERTAIN that these conditions will get worse and worse and worse and worse because of you-know-what. Time for NCDC again. Let's look at the Euklaheumer pnHANdle precip and temp. Precip: One serious drought in 2011, as bad as 1955, but clearly reverting to the mean after 2011. As I've noted before, 1955 was the real landmark for drought in Eukler. The Dust Beul had more to do with extremely stupid farming than extreme drought. 1955 didn't cause a
second
Dust Beul because (1) the dumbest Eukies had moved to Californier; (2) the remaining farmers had learned better techniques, and (3) FDR and state gov't had built lots of lakes to keep moisture in the air.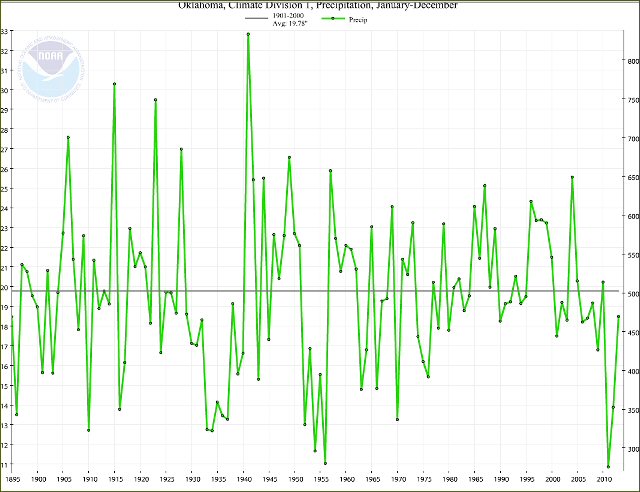 Temp: More interesting. Looks like the pnHANdle had a mode shift in 1930, followed by a long reversion; and another big peak in 2011, followed by a quick reversion.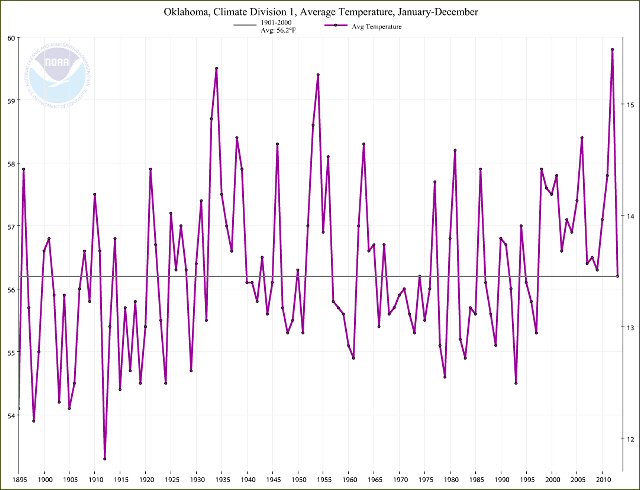 This pattern is widespread across many parts of US. Sudden extreme in 2011, followed by quick return to mean. Something big happened in 2011, which the crimate "scientists" won't explore because they're mass-murdering genocidal apocalyptic psychotics, not scientists.
Labels: Carbon Cult