The Baroque revival could have started in 1948....
.... but it didn't. I was ranging through some of the
'singles and doubles'
in archive.org's old-time-radio section.
This program
didn't look promising, but it didn't seem likely to contain any gunshots or screams, so I picked it up and put it at the front of my bedtime playlist. Most of the program wasn't terribly interesting. The Martha Deane Show, broadcast on WOR, Nov 6, 1948. A rather highbrow art and music show. Began with lukewarm congratulations to the newly elected President Dewey. The hosts clearly preferred Truman, but they put on a game face and halfheartedly cheered for NYC's favorite son. [This is probably why the episode was preserved.] Toward the end of the hour something utterly amazing happened. Woke me up more effectively than any scream or gunshot, and I had to get up and replay.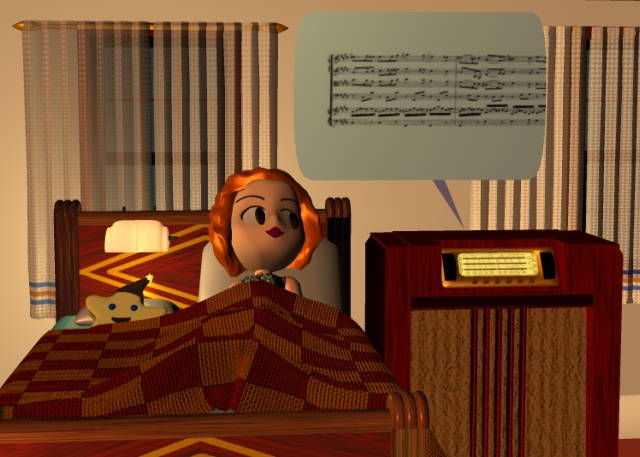 Pianist Winifred Jacobson was
attempting to start the Baroque Revival
all by herself. At that time most orchestras sludged through one or two Brandenburgs, making Bach sound like Wagner on Walium. It was blasphemous. And that was about it for Baroque. Jacobson illustrated her point with a now-familiar Scarlatti sonata [K380] and an unfamiliar (to me) set of Purcell pieces. She did them
exactly right
, with all the precision and delicacy required, and without the academic** fussiness that sometimes infected the Revival when it finally came from conductors like Hogwood and Pinnock in the '60s. An absolute epiphany, accompanied by a charming and persuasive personality. Why didn't it catch on? Why didn't
she
catch on? Google yields only one reference to her, a brief mention of a concert in her
hometown Wilmington paper: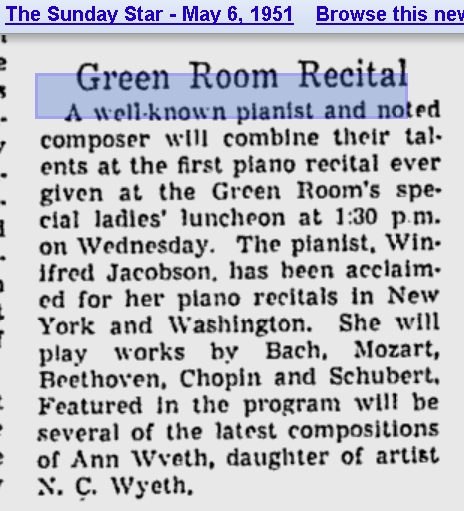 Sounds like she gave up the Revival and slid back into salable territory. Can't blame her. = = = = = **At the risk of being academic, my ears catch one quality in Jacobson's performance that belongs to 1930s/40's
popular
music:
Articulation.
Careful attention to the attack and release of each note, giving each note a distinct personality. Seems to be rather rare in modern pop or classical or Baroque. Among modern performances of K380 on Youtube, only one matches Jacobson's articulation:
Yuja Wang.
Labels: Alternate universe