Pluperfect =/= Future subjunctive 2
Yet another example of a writer who picks up a trend that was fully completed 100 years ago, and treats it as a
horrible possibility
that we need to avoid at all costs!!!!! If we aren't careful, those newfangled horseless carriages might take over the roads!!!!! Beware!!!
Richard Redding,
apparently a mature and well-educated academic, has
just now
realized that sociology may possibly become contaminated by politics at some time in the near future! No! We must fend off this incipient trend before it gets started!
It is not surprising, nor is it indicative of nefarious scientific misconduct, that researchers of different ideological persuasions would produce findings consistent with their own ideology. It is human nature to frame research questions and interpret findings in ways that confirm one's political beliefs. Such biases are the norm, even among scientists. This is particularly true when it comes to research on social issues because social scientists, many of whom were attracted to social science because of its progressive ideology, often have values invested in the issues they research. One can find such ideological tilt throughout social science research. For instance, how researchers interpret data on the relative contributions of hereditary factors versus environment to intelligence, or on biological factors in personality styles, seems to be partly a function of their political views.
Welcome to the 19th century, dummy. Sociology was always Marxism pure and simple. Sociology was INVENTED BY MARXISTS as a pseudoscientific tool to spread Communism. Here's a
1921 writer
discussing Lenin's new curriculum in Soviet schools: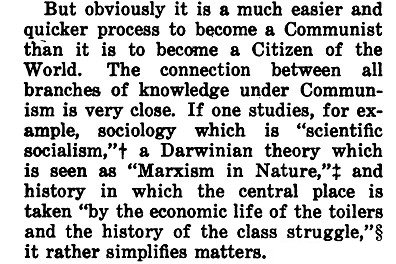 Since 1920, everyone who pays the slightest attention to "social" "sciences" has figured this out. The only people who don't talk about it are the "social" "scientists" themselves, who are still trading on the ignorance and innocence of people like Redding.