Hope that's not accurate
Weather bureau is predicting a big wind event today. As I woke up, still no big wind. I checked the Wunderground map to see if I could spot it approaching. Along the Cascade crest, one of their little 'key' symbols seemed to have a LOT of flags on it, so I clicked on it.....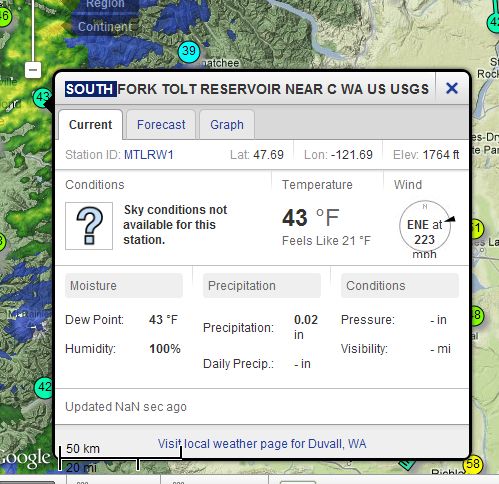 The NaN at the bottom probably indicates the instruments are out of whack. I hope so! 223 mph is a good brisk breeze. Later in the day: Well, it got windy, but not as windy as they were predicting. Seems to be a pattern in the last two or three years. The weather bureau does a good job of predicting
generally windy
versus
generally calm,
but their use of the Wind Advisory is uncorrelated with the most serious wind. Days with tree-toppling wind often have no Advisory, while days with a Wind Advisory are often just breezy.