Kool Kommies, frivolous facts
A pair of Kool Kommie Kids have
filed a frivolous lawsuit
aimed at requiring Oregon to commit suicide even faster than it's already doing.
The Oregon Court of Appeals has agreed to hear a climate change lawsuit brought by two teens from Eugene. One of the two plaintiffs, 16-year old Kelsey Juliana, is featured in a recent short film-- Kelsey Juliana: "Climate change is affecting Oregon because we're seeing droughts, we're seeing warmer temperatures and also we're seeing more fires." Juliana and another Eugene teen, 12-year old Olivia Chernaik, are suing the state of Oregon. Portland attorney Tanya Sanerib is representing the two teens. The suit alleges the state is violating the public trust doctrine. Sanerib says it obligates government to protect natural resources. If the 3-judge panel finds in favor of the plaintiffs, she says, Oregon will need to develop a climate recovery plan.
Here's the key: "We're seeing droughts, we're seeing warmer temperatures and also we're seeing more fires." Okay, Kommie Kids, I'll give you the fires. But forest officials agree that these big fires are caused by bad maintenance plus suburban invasion. Smokey the Bear meant complete suppression of necessary fires, and idiot rich dickheads have been building houses in the middle of forests. Those are specifically human-created problems, unrelated to "climate change". (Of course
nothing
is truly related to "climate change" except criminal speculators making huge profits by starving everyone else, but we'll leave that aside for the moment.) Forest officials are trying hard to solve the Smokey Bear problem by doing more controlled burns. We can only hope that the invasive rich dickheads will get burned out figuratively or literally. But I won't give you the "warmer temperatures and droughts", because those are
absolutely false claims.
Say kids,
what time is it?
Especially you in the peanut gallery,
sing along:
It's
NCDC
time,
It's
NCDC
time,
It's NCDC time,
It's NCDC time! Yessirree, boys and girls, even you Kool Kommie Kids, the government has been busy gathering actual information about temperature and precipitation, even in Kool Kommie Oregon!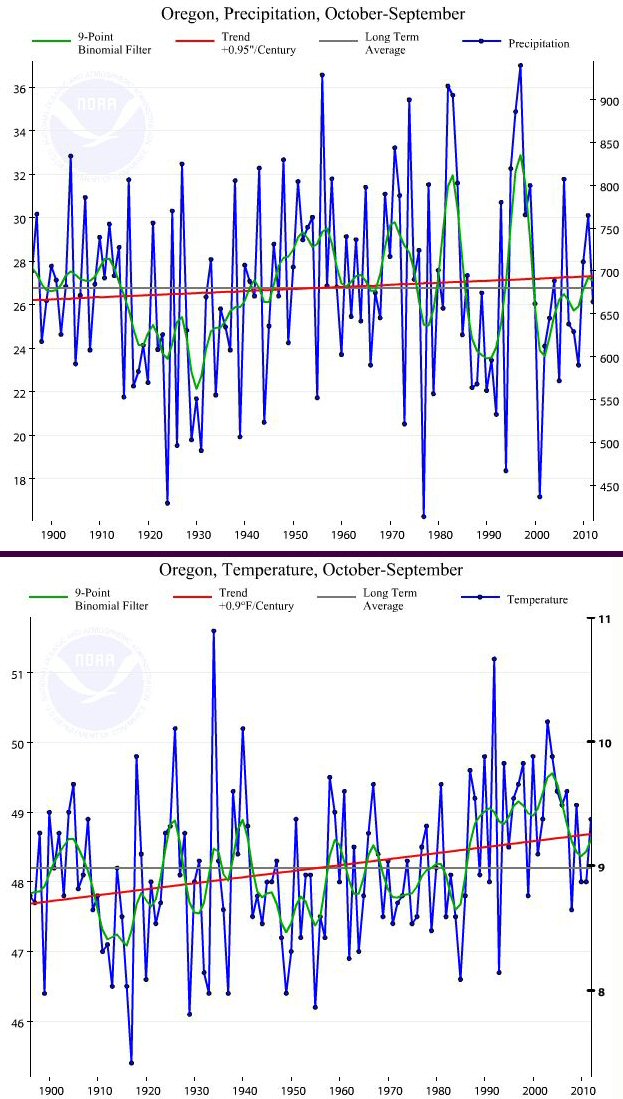 Do we see any droughts? Nope. We see the expectable
66-year curve.
It went through a relatively dry point in the '90s, but nowhere near the '30s. Now it's returning to average on its way toward the next relatively wet point. Do we see "getting warmer"? Nope. Got unusually warm in the '90s, but now it's getting cooler, returning to average. A closer look at the plots using the 10 'divisions' shows pretty much the same pattern in each division, with one exception: division 5 (south-central, east flank of Cascades) is clearly dry lately. Div 5 is dry to begin with and sparsely forested. (See
this map,
based on
this source
).
Pay attention, idiot Kommies. This is what Nature does. CYCLES. CYCLES. CYCLES. CYCLES. CYCLES. CYCLES. CYCLES. CYCLES.
Labels: Carbon Cult