Hottest ever in 48 ... oops, in ONE state.
I got tired of hearing that July was the "hottest ever in 48 states", so I looked at good old
NCDC.
July 2012 is the hottest ever in ONE state, Virginia.
In several states, LAST year was clearly the hottest ever, but this year is down from 2011.
In many Western states, the last decade has been about average, with a definite downward trend.
In several Great Lakes states, 2012 appears to be on a strong upward trend, but nowhere near the '30s.
The overall pattern seems to ... No, there isn't an overall pattern.
GLOBAL AVERAGE TEMPERATURE IS LOGICALLY MEANINGLESS AND IMPOSSIBLE.
Here are all 48 thrown together in one loop so you can see the pattern
s.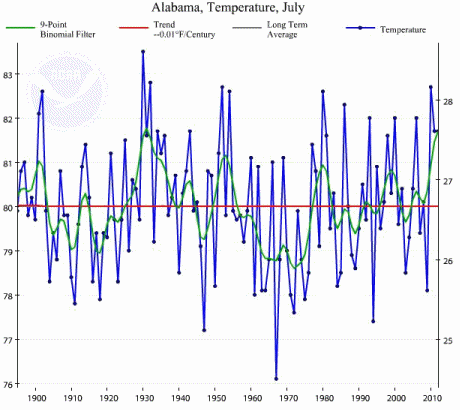 Labels: Blinded by Stats, Carbon Cult