Language update for October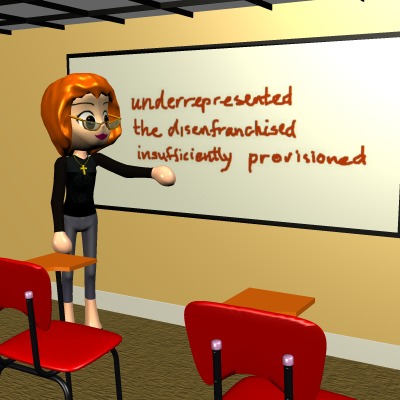 Professor Polistra has shoveled out another load of verbal shit: new terms and misused words.
= = = = =
Underrepresented.
A long euphemism for
poor.
"The recyclers in Buenos Aires mainly live in shanty towns. They are the most underrepresented people in the city."
= = = = =
The Disenfranchised.
A longer euphemism for
poor.
"The people here are the disenfranchised. They don't have the means to travel to New York for the protest."
= = = = =
Insufficiently Provisioned.
The longest euphemism for
poor
! Used by Professor Phil Scraton in discussing the Traveller criminals.
= = = = =
Space
used metaphorically:
"Steve Jobs took all of those music companies who were afraid of the digital space, and gave them..."
"In the cosmetic space, perfumes are hot. In the Internet space, iPhones are hot...."
"Ellen Zentner, working more in the fixed-income space of economics..."
= = = = =
Sketchy.
Seems to mean
incomplete
or
rough
or a lot of other things. At the moment it's a fresh visual metaphor. Will undoubtedly become trite later on.
"If you don't have government-provided day care and you're forced to rely on private care that is sketchy..."
Ski resort advertises "More time on the mountain, less time on sketchy mountain roads."
= = = = =
Confronting
as adjective.
"I used various views which are confronting in various ways." Seems to be a variant on
transgressive,
used solely by avant-garde "artist" types. Means that the "artist" has enforced rigid unyielding Establishment orthodoxy in the most violent and inquisitorial way, while pretending to be a Rebel Outsider. (Dammit, at least the original Inquisitors were honest about their intentions.)
= = = = =
Define
as middle-voice verb.
"We've heard from Miranda, who is disenchanted with the church and defines as Queer." Seems to be a variant on
identifies
.
Labels: Language update