Kammback house?
I've noticed something lately that doesn't make sense in my little mind.
When the wind is steady and moderate from the south, say 10-15 MPH, it comes into the front door of my house. This makes complete sense, because the front door faces south.
What doesn't make sense:
At the same time,
the wind is also coming INTO the back door that faces north. When the real wind is warm, the back-door wind is cool. I don't recall noticing this effect last year, when my back yard was full of
messy and deadly trees.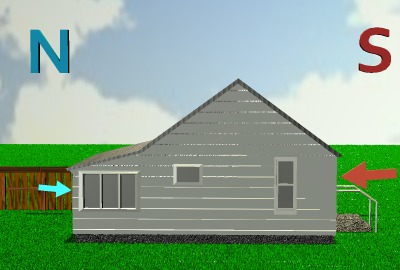 There is no obvious reflector in back. Wood fences line both sides of the yard, but all the fences to the north are chainlink. The nearest solid stand of pines is 150 feet to the north. Doesn't seem close enough to be a good reflector intuitively, but it might be the main factor. Especially since the back wind is cool.
More fun to imagine that the backdoor inflow is a backwash from air passing over and around the house, something like this: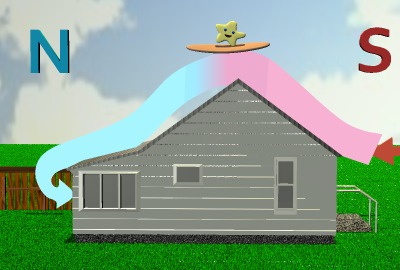 But probably not. Probably the trees.