Fish in a barrel
In the latest
New Superstitionist
a sanctimonious turd called Paul Nurse writes an editorial perfectly expressing the orthodox inbred incestuous blind bigotry of the "scientific" elite.
Paul Nurse claims to be associated with something called the "Royal Society". I hope the real Royal Society will sue him for misrepresentation. At one time in the distant past, a British group called the Royal Society was devoted to the advance of science. Nurse's organization misuses the same name to advance ignorance, absolute falsehood, and murderous intolerance.
= = = = =
Turd Nurse writes:
If you respect science you will probably be disturbed by the following opinions.

On evolution: intelligent design is "a legitimate scientific theory that should be taught in science class". And don't believe in "a theory that human beings - thinking, loving beings - originated from fish that sprouted legs and crawled out of the sea or from monkeys who eventually swung down from the trees."

On the use of embryonic stem cell research to cure diseases: it should be shut down because it involves "the wholesale destruction of human life".

On climate change: variations are "natural, cyclical environmental trends". That "we can't say with assurance that human activities cause weather changes" and that climate problems in Texas are best solved through "days of prayer for rain".

You would probably be even more disturbed to be told that these are the opinions expressed by potential Republican candidates for the US presidential nomination (see "Science rears its head in Republican debates"). It's alarming that a country which leads the world in science - the home of Benjamin Franklin, Richard Feynman and Jim Watson - might be turning its back on science. How can this be happening? What can be done?
= = = = =
Time to shoot fish in a barrel.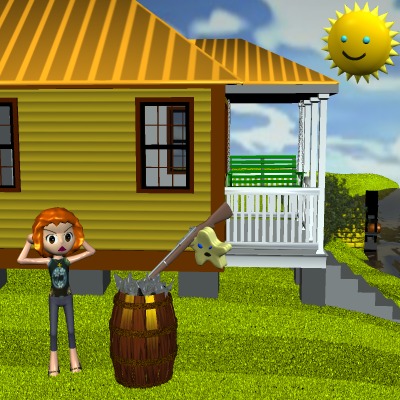 Turd Nurse picks out Franklin, Feynman and Watson as shining examples of American scientists who will agree with his bigotry. Okay, let's see how they serve him......
= = = = =
Franklin
said
the following about Turd Nurse:
In going on with these Experiments, how many pretty systems do we build, which we soon find ourselves oblig'd to destroy! If there is no other Use discover'd of Electricity, this, however, is something considerable, that it may help to make a vain Man humble.
= = = = =
Feynman's gathered quotations
consist almost entirely of harsh direct rebukes to the bigoted certainty of Turd Nurse.
I think it's much more interesting to live not knowing than to have answers which might be wrong.

You can know the name of a bird in all the languages of the world, but when you're finished, you'll know absolutely nothing whatever about the bird... So let's look at the bird and see what it's doing -- that's what counts.

We are trying to prove ourselves wrong as quickly as possible, because only in that way can we find progress.

For a successful technology, reality must take precedence over public relations, for nature cannot be fooled.

If you thought that science was certain - well, that is just an error on your part.
= = = = =
Watson is the only somewhat friendly choice. He didn't leave nearly as many pithy sayings as the other two, but his
general pattern
is more in line with Nurse Ratched's blind certitude. However, Watson ended his career a couple years ago by saying some perfectly true things about race and intelligence. I'm not sure Nurse really wants to associate his PC Leninism with Watson's unshakable and unfashionable love of truth.
Labels: Carbon Cult