No flying fuck
The neocoms are busily parroting standard talking points about Obama "throwing Israel under the bus".
Okay, fine. Got it. You favor Israel and Obama favors Palestine. (Though it's hard to tell where his practical policy differs from Clinton or Bush The Son.)
I don't give a flying fuck who favors Israel and who favors Palestine.
Both of those places are OTHER GODDAMN COUNTRIES. THEY ARE NOT PART OF AMERICA. WE DO NOT LIVE IN ISRAEL. WE DO NOT LIVE IN PALESTINE. WE LIVE IN A DIFFERENT COUNTRY CALLED AMERICA, WHICH IS NEITHER ISRAEL NOR PALESTINE.
I'll be glad to demonstrate this weird radical unprecedented idea to anyone who doubts it. The demonstration will require the use of a super hi-tech device called a "map", which is a two-dimensional representation of weird radical sci-fi concepts called "borders".
When in the holy fuck do we get a politician who can read a goddamn map? When in the holy fuck do we get a politician who FAVORS AMERICA?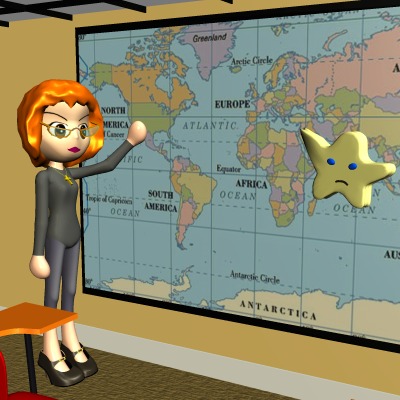 Polistra and Happystar, in a pointed mood, demonstrate their strange new theory that America and Israel are DIFFERENT COUNTRIES.