Deposuit potentes de sede
News item:
The arrest of IMF chief Dominique Strauss-Kahn in connection with a sexual assault in New York risks throwing the French presidential race in disarray.

Strauss-Kahn is seen as the strongest potential challenger to conservative and unpopular President Nicolas Sarkozy in 2012 presidential elections. Strauss-Kahn has not announced his candidacy but was expected to seek the Socialist Party nomination.

Political rivals expressed shock after his arrest in New York. Far right presidential candidate Marine Le Pen said his presidential bid was doomed.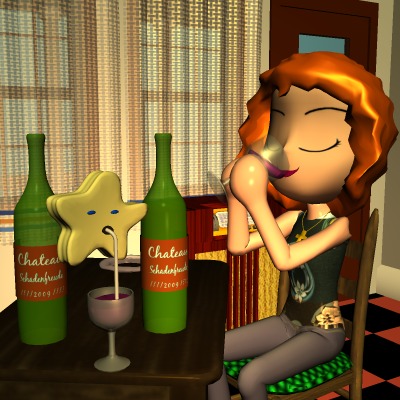 Polistra and Happystar break out the celebratory vintage. Always good when the People Who Count, the financial elites, fall from high places;
especially
delightful when the fall gives a direct advantage to a Nationalist.
= = = = =
More on Monday:
From NYTimes:
As the impact of Mr. Strauss-Kahn's predicament hit home, others, including some in the news media, began to reveal accounts, long suppressed or anonymous, of what they called Mr. Strauss-Kahn's previously predatory behavior toward women and his aggressive sexual pursuit of them, from students and journalists to subordinates.
Sounds mighty familiar. And it gets better:
Mr. Strauss-Kahn behaved aggressively toward a young female journalist and novelist, Tristane Banon, in 2002, according to the newspaper Le Parisien and other Web sites, and corroborated by Ms. Banon herself in a 2007 television interview on Paris Première, a cable channel. At the time, she said that a French politician — whom she later said was Mr. Strauss-Kahn — had tried to rape her in an empty apartment in Paris after she had contacted him for a book she was writing.

"He wanted to grab my hand while answering my questions, and then my arm. We ended up fighting, since I said clearly, 'No, no.' We fought on the floor, I kicked him, he undid my bra, he tried to remove my jeans," she said.

Afterward, she said that she had contacted a well-known lawyer who already had "a pile of files on Mr. Strauss-Kahn," but that she never filed a complaint. "I didn't dare; I didn't wish to be the girl who had a problem with a politician for the rest of my life," she said.
Gramscian demigods always leave a trail of raped girls (or sometimes raped boys) behind them. The French media apparently referred to Comrade Strauss-Kahn as 'the Great Seducer' for a long time (note
this news item
from a week before the current event!), so the wide-eyed surprise by NYTimes is the usual 100% lie. They all knew what was happening.