It's not just the mercury!
A closer look at those Chinese poison pods
shows that they are harmful every time they're turned on, not just when they break.
[German scientists advise] that the bulbs should not be left on for extended periods, particularly near someone's head, as they emit poisonous materials when switched on.

Peter Braun, who carried out the tests at the Berlin's Alab Laboratory, said: "For such carcinogenic substances it is important they are kept as far away as possible from the human environment."

Several carcinogenic chemicals and toxins are released when the environmentally-friendly compact fluorescent lamps (CFLs) are switched on, including phenol, naphthalene and styrene.

Andreas Kirchner, of the Federation of German Engineers, said: "Electrical smog develops around these lamps."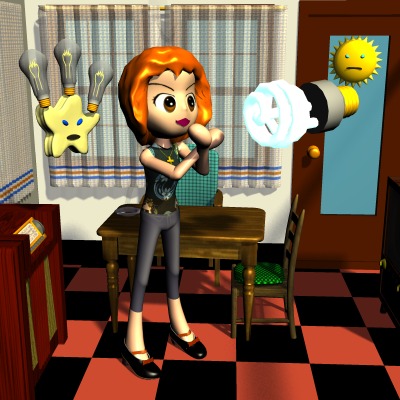 The poison pods are already required in Britain, so the cancer is already well under way there. In this unfortunate land the deadline for eliminating all safe bulbs is still a year away, so I'm stocking up on safe incandescents as fast as possible. I see no hope that our Gaian Occupation Government will retract or repeal anything, since national suicide is the unanimous goal of everyone in DC.