Sun is in charge as always!
Professor Polistra was impressed by the
(nearly) continuous 200-year record of temperature and storminess at Armagh, Ireland.
If we really want to look at climate scientifically, we should be dealing with just a handful of reliable records like this, instead of trying to cover the earth with a grid of "adjusted" (falsified) data.
The WUWT folks were focused mainly on temperature, but Prof P has been thinking more about overall conditions correlated to sunspots.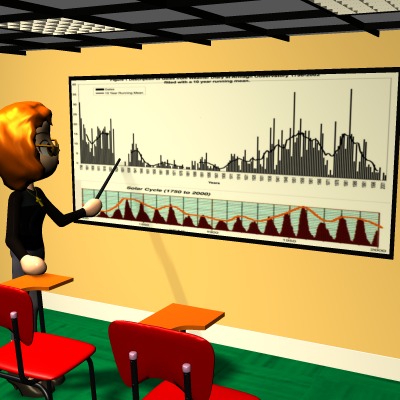 The upper chart is the "storminess" record from the Armagh data, spanning 1796 to 2002. The lower chart comes from an online chart of sunspots, with the horizontal axis of years aligned exactly the same.
After the gap (in the 1830's) it's a good match. You don't need to mix in any other factors, neither CO2 nor the El Niño-style oscillations.
The sun does it all.
The
Svensmark theory
tells us that more sunspots should mean somewhat less cloudiness on average, which means the surface gets a little warmer. Here we see more 'storminess', which includes wind and rain, at the times when the sunspots would make the surface warmer. The 'rain half' of storminess seems a little counterintuitive, but storminess depends more on upper-level wind currents and temperature gradients, not so much on the amount of
available
moisture.
= = = = =
Update:
News today
about the Farmers Almanac prediction for this winter. They see mild winter for the East, somewhat milder and drier than average here in inland NW, and blizzards in Midwest. They use sunspots and lunar phases for their predictions, which means they're right most of the time.
Most interesting part of the article was a response from one of the Official Crimatologists at NOAA:
Ed O'Lenic from NOAA's Climate Prediction Center said the scientific community doesn't accept tides, planetary alignment and sunspots as effective predictors of temperature or precipitation, but he stopped short of calling the almanac's meteorological methods a bunch of hooey.

"In science you have to have an open mind. Someday, someone could conceivably find some scintilla of evidence that it's useful," O'Lenic, chief of the operations branch, said of the almanac's methodology. "For the time being, we have to stick with what produces results for us."
This is one of those deliciously Orwellian glimpses into the murderously diseased cranial appendages (I can't say minds) of our infinitely evil Communist Masters.
(1) "In science you have to have an open mind."
and then immediately,
(2) "Someday someone could find some scintilla of evidence..."
Some scintilla? Comrade Eddie m'boy, you fucking snobbish dickhead, look at the chart above, which is just
packed
with scintillae of real evidence. Of course you wouldn't be able to read it anyway, since it consists of
actual data derived from actual observations
, which is Kryptonite to your monstrous Godzilla-like compound eyes.