The best video on the "global warming" hoax
Finland's national TV network has presented a solid, factual and clear program on the basic scientific fraud behind the "global warming" crime.
In a nutshell: Out of the dozens of ways to gather an average global temperature, only one set of alleged "real data" supposedly agrees with the computer models that claim the last century (and the last decade) as the warmest in history.
All other data sets,
including averages of
real temperatures
, show an unremarkable set of ups and downs, with the 20th century warmer than the 19th but nowhere near the balmy medieval era, and with the current decade unquestionably trending downward. Only one data set matches the carbon dioxide curve, and this set turns out to be based on the rings of
exactly 10 trees
in Siberia.
The Finnish TV program shows how Steve McIntyre pursued the truth about the tree-ring data. He finally proved that these 10 trees not only disagree with all other real data, they even disagree with other trees in the same area!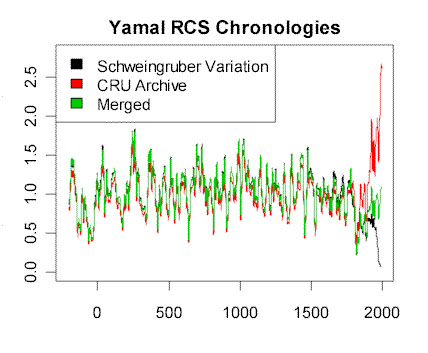 This graph is the key to the story. The red line shows the scary temperature pattern derived from the rings of those crucial 10 trees. The black line is derived from a larger set of trees in the same area. Note that even the black line doesn't resemble other direct and proxy measurements of temperature, which tells you that perhaps tree rings are not a good proxy in the first place. The green line shows what happens when the 10 trees are mixed with the larger set with proper weighting. All of this is standard procedure in any scientific study: you examine all available data points, and if a few of the points are wild, you leave them out unless you have an extremely good factual reason to include them. (For instance, you'd include them if you were specifically studying
why
these points are different; perhaps studying the insects or disease that affected this forest.) In any honest scientific endeavor, a study that included
only the outliers
would be rejected and condemned. Unfortunately, "global warming" is the exact opposite of honest science, so we are busy destroying Western civilization on the basis of these 10 unusual trees.
Here's the video in one piece with English subtitles.