The wisdom of Shepherd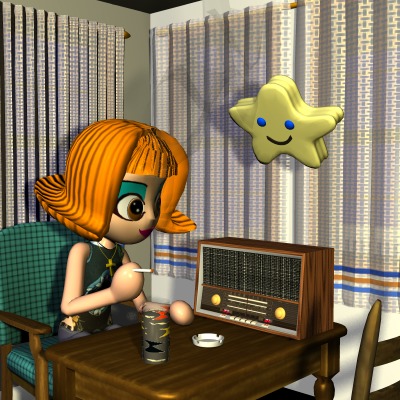 Polistra is all 1962-ed up while listening to the late great
Jean Shepherd.
Several of his shows are found at
this location.
Somewhat surprising that more of his work hasn't been preserved, since his show ran from 1956 to 1977, after the "golden age" of radio, and well into the era when cassette tape recorders were common. I remember hearing him a few times in Kansas circa 1961; New York was only rarely audible from there, but I had a good antenna and plenty of patience.
Polistra is listening to a segment (about two minutes long) in which Shep states a few uncommon truths that Polistra herself
has
voiced
often.
Here is the relevant segment from Shep's show.
Transcribed for non-listeners:
No, no, no. One small group of people cannot create a national psychosis. Hitler couldn't have been Hitler unless a large set of Germans secretly felt the way his philosophy was conceived. In other words, you just don't create a whole image like that; it has to be there in the beginning.

Another one of the great dreams that Americans seem to have, more than most people, is this: That we can separate the governments of nations that we don't like from the people. In other words, Khrushchev doesn't really represent the people of Russia; that the Communist regime there is really not the Russian people. [We have] this great illusion that we can separate the things that come out of the people, from the people themselves, that Hitler didn't represent all the Germans, no. That Castro doesn't represent the Cubans. Welllll, this is a questionable thesis. That Jack Paar and Ed Sullivan don't represent American tastes... Oh yes they do. [In fact] the people we elect [as] President represent our tastes rather than our thinking. It's a matter of taste, a matter of disposition. You can never separate what people do on a large scale from what they really secretly want. Television is the way it is because the large majority of people want it this way, even though they protest loudly about it.
Note especially his dissection of the Bush/Wilson delusion, the "dream" that you can cure other countries by giving them the Holy Water of Democracy.