America the land of entrepreneurs? Nope.
Economist Dean Baker
has located a
report
that compares the "dynamism" of America and other rich countries. It's a real waker-upper. Turns out we are at the
bottom
of the entrepreneur stack no matter how you try to measure it.
This chart tells the story: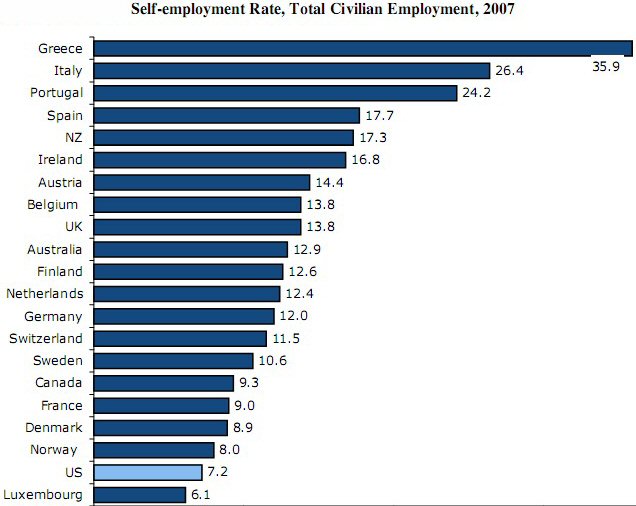 The rest of the report tries to separate manufacturing from agriculture, because the top countries have many small farmers; it looks at firms in manufacturing, computer-related businesses,
research and development
, and others. In every category, no matter how you parse the data, America is at the bottom. We are the Land of Monopolies.
Why? No single-payer health care.
I really can't imagine why our brand-D politicos aren't using these facts to help sell a single-payer system ... Oh, now I remember. Our brand-D doesn't want health reform, or American survival, any more than brand-R does. Both parties just want to maximize the profits of insurance companies and lawyers, but in slightly different ways.
= = = = =
Later thought: There are two other factors besides health costs that suppress small business in America. Litigation and copyright/patent problems. Litigation is a uniquely American evil, while copyright/patent problems are only somewhat worse here than in other rich countries. These two factors are narrower than health costs, each affecting only certain types of business, but the net effect of all three is the same.
The sum of these factors gives
total advantage
to the largest corporations, which can self-insure for medical care, hire armies of lawyers to scare away the predatory lawyers, generate carefully crafted defensive patents to eliminate innovation, and buy custom-made laws from CongressMart.