Dust bowl's revenge
Interesting
article today
about the parts of the US that haven't been struck by this recession.
Carl Rupp and his neighbors follow the old rancher's creed: "Keep your money in your pocket."

Rupp has farmed his whole life. He lives in Goshen County, a rural spot along the Nebraska line where cattle outnumber humans 16 to 1 and you can still see the ruts cut by wagons that hauled pioneers along the Oregon Trail. "We're very conservative," said Rupp, 62. "We don't go out too far on a limb."

That prudent financial bent, matched with the high prices paid for crops and energy in the past few years, has largely protected Goshen County and a core group of several hundred other counties in 10 states from the recession's chokehold. The Associated Press Economic Stress Index shows they make up a "safe zone" that covers a long swath of middle America, from the Great Plains south to Texas.

The contiguous counties in the safe zone start in Montana and North Dakota, and cascade into Wyoming, South Dakota, Nebraska, Iowa, Kansas and Oklahoma, and end in northern Texas and eastern New Mexico. Those in the safe zone had an AP Economic Stress score under 5 in June, making them the economically healthiest in the United States.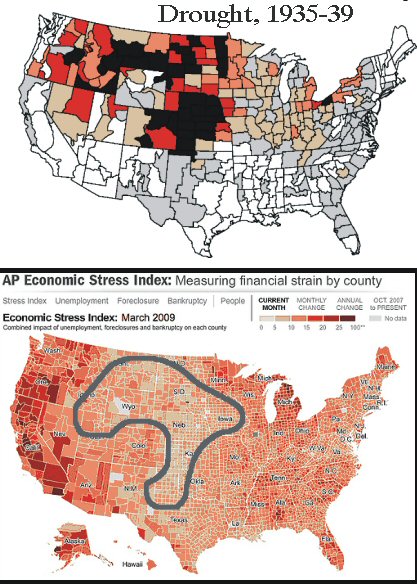 Here's a comparison of the
1930's drought
with today's "safe zone". Not quite exact, because the economic effects of the '30s had other causes besides the drought. For instance, Oklahoma was not in the deepest drought but it was in deep trouble. Still, it's a nice bit of symmetry.
Both decades had the same overall sequence of events. Both times, the financial sector forgot that every economy must depend on real production, and the government failed to protect and maintain the real side of the economy. When a major part of the real economy failed (after declining for several years) the financial sector kept running on fantasy, destroying other parts of the real economy when it crashed. The only difference is that the failed part in 1929 was agricultural and the failed part in 2008 was industrial.