Language update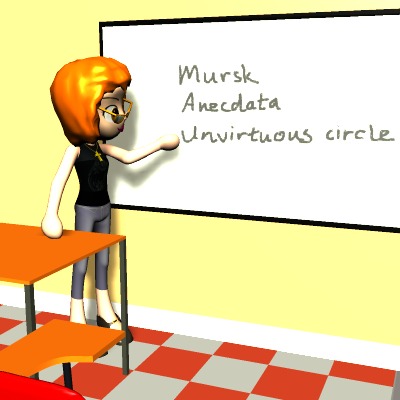 Professor Polistra has accumulated another set of overused or new phrases.......
Company / Country:
During the TARP crime, newscasters were having a lot of trouble with these two words, switching them both ways. Nice Freudian indication that criminal syndicates such as AIG are more countries than companies, and territorial entities such as USA are more companies than countries.
Piracy / Privacy:
During the Mærsk Alabama story,
piracy
turned into
privacy
more often than not. Nothing Freudian here; just a very rare word sliding over into a very common word of similar sound. (Possibly influenced by the arcane and literary word
privateer,
which means roughly the same as pirate?) A more annoying and less justifiable error was pronouncing Mærsk as
Mursk
and referring to the ship as the Mursk. Mærsk is a huge company that owns many ships, one of which is the Mærsk Alabama. This shouldn't be a hard concept to grasp. Calling the ship "the Mursk" is like living at 412 Grandview Terrace and giving your address as simply "The Turrace".
Whole host:
Obama's favorite phrase, spreading through a whole host of his acolytes in the media.
Anecdata:
Nice new
portmanteau word
for
anecdotal data.
Infodemic:
Wonderful coinage by Peter Greenberg, for the spread of idiotic panic (eg Mexican Flu) through the media.
Turbine:
British pronunciation (rhyming with turpentine) has taken over. No reason for this, except to sound British. Might make sense if we needed to distinguish turbine from turban, but the latter is so rare that a separate pronunciation is unnecessary.
Somehow:
Introducing
somehow
into a sentence tells us that you are a cool Progressive who knows the truth, unlike those uncool Fascists. Examples: "The conservatives somehow believe that the Constitution somehow has a literal meaning which judges can somehow read and somehow apply." "Yeah, right, like somehow a fetus is somehow a baby or something." "These deniers think the sun somehow influences the climate on our Planet."
Unvirtuous circle:
When a new thing or idea comes along, it needs an extra adjective to describe it. After the new thing replaces the old, we use the plain default word for the new, and we have to add something extra to describe the old. Common examples of
retronyms:
acoustic guitar, film camera, biological parent, covenant marriage, landline phone. In this case, the old term for a positive feedback loop is
vicious circle
. This is accurate and appropriate because positive feedback (each increase triggers even more increase) is always bad. Negative feedback (each increase is countered by an opposite compensation) is always good. When your car is going too fast, hitting the gas pedal is positive feedback and hitting the brake is negative feedback. In recent years the bubble mentality, the assumption of infinite increase, became so pervasive that we insanely declared positive feedback to be a
virtuous circle
. Now that the party is over, a few sobered-up commentators are trying to recover the old accurate idea, but they've lost the term
vicious circle
, requiring the invention of the weird semi-retronym
unvirtuous circle
.
Labels: Language update