YIMBY
More Oklahoma-related rambling....
Google Street View is a fun toy ... though it's rather spotty, it happens to cover several of the cities where I've lived.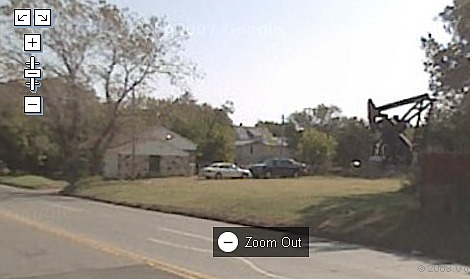 I was surprised to find this house on SE 15th in OKC still looking good. I rented this house in 1972, during my brief and dismal hippie-era marriage.
Note the uniquely Oklahoman decoration in the back yard! It was noisy but somehow reassuring, because it meant the property was important to the landlord.
It was an excellent house: modern, two bedrooms, stone siding, attached garage, partial basement. A park across the street, groceries and other stores in easy walking distance. At that time I was earning about $3000 a year, and I could rent this nice house, maintain a car, and support a wife and baby. No room for major extras, but we were able to eat in restaurants occasionally and travel occasionally.
Using the official inflation figures, $3000 would multiply to about $25000 in today's dollars. Would $25K support a similar lifestyle now?
Not a chance.