Chacun à son goût?
Comrade McCain, in a phone interview with Glenn Beck, firmly opposed drilling in ANWR, saying "I'd just as soon drill in the Grand Canyon."
Polistra is puzzled. She is trying to study the esthetics of the elites, so she can comprehend why a man with a hundred million dollars and free beer would desire to keep the
rest
of us poor and dependent on hostile foreigners.
As an educational project, she is examining these two towers to parse out the esthetic imperative that drives Comrade McCain.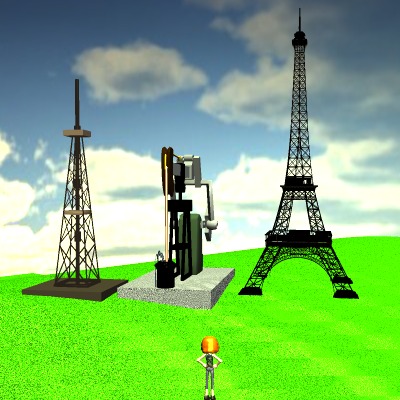 The elites apparently consider one of these towers to be the ugliest thing on Earth, a blot on the landscape, an eyesore to be avoided by all civilized humans. The other tower is considered one of the most beautiful things on Earth.
Ah! She's figured it out! The one that keeps civilization going, the one that provides the fuel to construct beautiful things, the one that allows beautiful things to be transported from one place to another, that one
must
be the beautiful tower!
Eh? Non? C'est l'autre?
Pourquoi?