You'd think we'd learn.......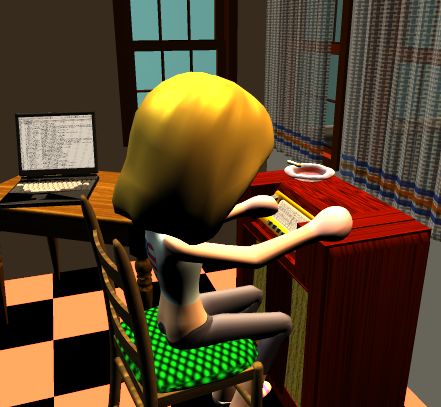 In between working on a rather dull spreadsheet assignment, I've been listening to a
full broadcast day
of CBS from D-Day, 6/6/44.
Not many surprises in the raw news; I've read enough about Operation Overlord to know the basics.
In terms of presentation, all the Big Names like Murrow, Collingwood and Hottelet were taking part in the broadcast, and I found them unimpressive. Lost without their scripts, and poor at basic diction.
The real star of the day was a lesser light, Bob Trout. Caught off guard on a late shift, he took masterful control and invented a whole new way of doing news. He wandered around the building with a remote microphone, talking as he walked, reading the news from whichever teletype machine seemed to have the latest flash, explaining the news-gathering process to the listener, pulling the events together, and finding editors and writers to give on-the-spot analysis. He remained serious and competent but informal; never sounded stilted or harsh. Trout laid the
stylistic
groundwork for today's cable news, though I suspect he'd be ashamed to hear today's results. Any of those old newshawks would be totally puzzled by a "news broadcast" that covers custody disputes mis-described as abductions, sex with teachers, sex with children, sex with celebrities, and a tiny handful of non-sex stories which are obviously and plainly false. They would recognize this as a fantastically low-quality tabloid newspaper or 'scandal sheet'; maybe even a crude high-school parody of a tabloid.
What surprised me in this CBS day was the high quality of commentary and analysis. They had three main analysts and two 'embedded generals' on the air; all were vastly superior to anyone on TV today, and Quentin Reynolds was the best.
At one point Reynolds compared FDR's approach in WW2 with Wilson's approach in WW1. Crucial difference: Wilson paid more attention to politics and diplomacy than to fighting, and failed to replace generals who couldn't handle a real war. Roosevelt focused strictly on winning the war, and "took care to explain every aspect of the war to the people." This was, of course, before WW2 was won; as of D-Day it was unclear how soon we'd take down Germany, and we hadn't even started to push into Japan. Even so, the distinction was already clear to Reynolds. If you want to win a war, you have to get the citizens on your side and you have to get rid of incompetent managers. The distinction is even more clear now that we know how WW2 came out, and how quickly it was done. Despite all that, George W. Vichy has intentionally taken a 100% Wilsonian path. He focuses on politics and diplomacy, refuses to replace bad generals and Secretaries of Defense, and refuses to explain the war to the people in any way that makes sense. At this point, after nearly 6 years of Wilsonian failure, we really have to ask: is this simple incompetence or is it something worse?
I've posted
this 3-minute segment
of Quentin Reynolds because it's crisply relevant to today's fight. We know that today's Arabs, fighting under the banner of Allah, are direct descendants of WW2's Germans under the banner of National Socialism. Hitler's chief representative to Arabs was Saddam Hussein's uncle and Yasser Arafat's main mentor. A sort of devilish apostolic succession. But I was still surprised by the historical 'connectivity' of several items in this piece. Listen for yourself and see if you can spot them.
= = = = =
Edit for accuracy: From the Wiki biography of Bob Trout, he did invent the 'peripatetic newscast', but he first used it at the Anschluss in 1938. By D-Day it was already his trademark but not brand new.