FBI gets one right!
Since I've knocked the FBI early and often, I should register applause early when they FINALLY get one right. This is the first serious terrorist cell they've
ever
caught before it acted. Ever.
Still not fully clear if the terrorists are
Black Muslims
(i.e. Farrakhanites) or blacks who follow the actual Mohammedan faith. Sounds like the latter, since one of them is apparently Jamaican. As in Richard Read and Lee Boyd Malvo. You can bet that the Jamaican is the leader, since native-born American blacks always follow Jamaican-derived blacks.
-----
Oops, apparently Haitian, not Jamaican. That's less expected.
Listening to the smarmy experts on CNN, putting out the usual 'fraction of a fraction' stuff, and saying that 'home-grown terrorists' are hard to spot because they look and act just like anyone else. Well, no. If they are truly serious about their adherence to Allah, they don't look and act like the rest of us. Infidels don't poke their asses in the air like dung beetles five times a day.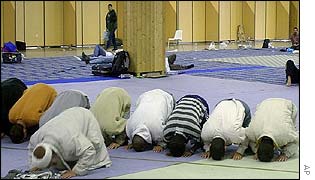 -----
From the Miami Herald: Apparently the local black infidels didn't have any trouble distinguishing these fellows:
One man who lives across the street from the warehouse where the search warrant was served described the suspects as an unusual group of men, almost cultist, who wore military-style clothes and kept to themselves.

The 12 to 15 men in their 20's and 30s appeared to be from Haiti and from the Bahamas.

"I bet they've gone across the water" he said, believing some had escaped the federal agents.

"They would be gone all day and come back at night to the warehouse to sleep. They sold shampoo and hair grease on the street, just like the Ben Yahweh people," he said. "They were not threatening but nobody messed with them."
The Ben Yahweh reference may be obscure nationally. Yahweh Ben Yahweh was a black preacher's son from Enid who somehow turned himself into a cult leader in Miami in the 1980's. His followers killed 14 white transients, but got zero national coverage because the MSM just can't stand to break its standard Klansman template for hate crimes.
I only heard about Ben Yahweh because I lived in Enid for a long time and continued to subscribe to the hometown newspaper.
It's encouraging that the Miami black population remembers this evil man as evil, despite the MSM attempt to eliminate him from history.
-----
Anderson Cooper on CNN just now: "This alleged incident would appear to bolster Vice President Cheney's oft-stated belief that the world is a dangerous place."
I'm trying to imagine Lowell Thomas saying in 1944, "Today's alleged discovery of so-called concentration camps, where the tiny fraction of a fraction of allegedly bad Nazis are hijacking the reputation of good and peaceful Nazis by allegedly killing a few apparently Jewish people, would appear to bolster the Roosevelt administration's oft-stated view that Nazis are a dangerous enemy."
Still trying to imagine....
Still trying....
-----
Aha! Now I can hear it.
-----
News Bulletin! News Bulletin! We have Ed Murrow reporting from Auschwitz in Poland. Ed, are you there?
Ed: Yes, Lowell. I'm standing at the entrance of this alleged, so-called, and let me underline and italicize the so-called, "concentration camp." We have Brother Schmidt here, who just came out of the gate.
Brother Schmidt: Goot efening, Edt.
Ed: Brother, the Democrat administration in Washington says you are Nazis.
BS: Nein, ve iss not no kind of Nazis.
Ed: What are you, then?
BS: Ve iss chust a little business. Ve iss called SS Company.
Ed: What does SS stand for?
BS: Um, it stants for Super Soap Company.
Ed: Okay, and what about all those alleged human bodies we see behind us here?
BS: Oh, dem iss chust demonstration models. Ve use dem to show how peoples can use our soap.
Ed: I must say, those alleged bodies certainly smell like dead bodies.
BS: Vell, of course dey iss smellink. Makes besser de demonstration ven dey smell bad.
Ed: Yes, I understand. Back to you in New York, Lowell.
BS: Heil Hitler!
Lowell: Well, this certainly gives the lie to the obviously fake claims by our pernicious Democrat-controlled administration. This isn't a so-called concentration camp at all. It's just a little business struggling to stay afloat in the face of our constant evil bombing.
[Inspiration, of course, from CNN, the Gift that keeps on giving. Gift in the German sense, that is.]