Common sense exam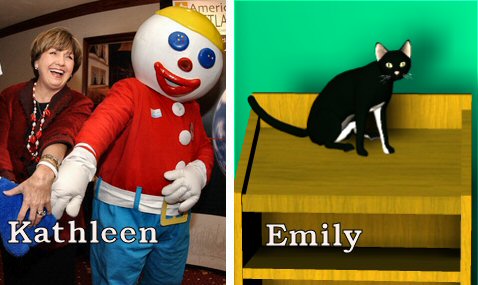 Some years ago I inherited an elderly cat named Emily from relatives. Emily was not highly intelligent as cats go; she was prissy and precise and wanted every day to be predictable. She was thus happier in my prissy and predictable little house than she had been in the fast-moving and multi-pet household of the relatives.
Emily had good common sense, though. After pooping she didn't even pause to do the symbolic covering-with-dirt routine; she sprang away from the shit and skidded through the house at top speed.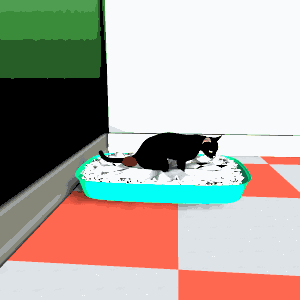 Now let's check another precise lady's common sense.
Louisiana Gov. Kathleen Blanco said she had not signed off on the decision [to force evacuation].

"The mayor certainly has ordered that but the governor, and that would be me, would have to enforce it or implement it. We are trying to determine whether there is an absolute justification for that," she told FOX News.

"I think the most important thing driving that decision would be the possibility of disease. If indeed the disease problem is evident, is inevitable, we'll have to move to the next stage," she said.
Emily wins.
-----
Sidebar:
I felt a twinge of guilt for using this particular picture of Blanco. She was taking part in a silly little
morality play
aimed at raising children's awareness of wetlands, and supposedly the lack of wetlands was part of the New Orleans problem.
But then I realized this is an excellent illustration of our larger mess. Two contributing factors:
(1) Too many of our leaders have female minds, whether they were born genetically female or not. These cross-thinkers believe that endless jabber is the way to "address an issue." Male minds believe that action is the way to "solve a problem." A male-minded governor who realized the potential for disaster would have used available resources to fix the physical problem, instead of raising consciousness about a theoretical cause of the problem.
(2) Cross-thinkers are especially susceptible to religion. And our established religion is environmentalism. Contrary to popular opinion, American leaders are
not
short-term thinkers in this realm. A short-term thinker would have developed a solid evacuation plan, and wouldn't need days to ponder the consequences of using it. But we are long-termers. Given a choice between an action that saves human lives NOW versus a way to decrease theoretical risks by .00001%, we will reliably pick the latter. This is the basic sin of the environmental religion. The most obvious examples are shutting down nuclear power and using small cars. A couple of local examples come to mind as well: Spokane no longer uses oil-based paint (which lasts about six years) to mark lanes on streets, because oil-based paint supposedly leaches into the aquifer and does some kind of harm. Instead, we use water-based paint, which wears off in six months. So we have to use far more paint, resulting in far more leaching, and the street markings are hard to see most of the time. Poor visibility causes actual accidents. Similarly, we had to stop using sand for winter de-icing because the sand gets into the air. Instead, the street department uses a liquid de-icer which is more expensive and far less effective. Result: Actual lives lost in accidents.