Did most people know Latin?
I always watch an episode of some old TV show before bedtime. Lately I've been going through the late-50s 'Highway Patrol'. It was well written and well acted but cheaply produced, using the same few Los Angeles locations over and over in inappropriate ways. A house that's clearly in an urban LA neighborhood is sometimes meant to be a farmhouse, sometimes an abandoned cabin, sometimes an insurance agency. Old radio and TV can give you a pretty good sense of common knowledge in earlier times. If a fact or concept appears in a mass-market show without explanation, you can be sure that most of the audience would understand it. In
this 'Highway Patrol' episode,
a murderer has escaped from prison. He was shot in the process, and his accomplices have to find a doctor to patch him up. They recruit a doctor in the only way they know how: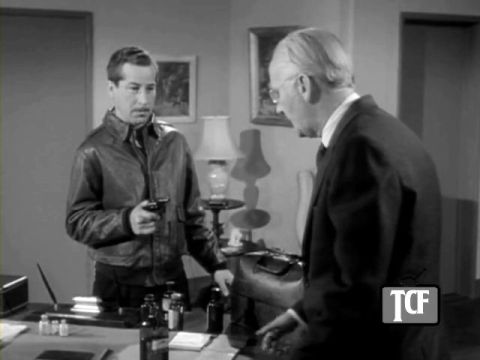 The doctor realizes he needs to get someone else involved, so he tells the thug that he needs to stop by a pharmacy for antibiotic, and needs to write a prescription. The thug is suspicious, but doesn't see anything wrong about the scrip.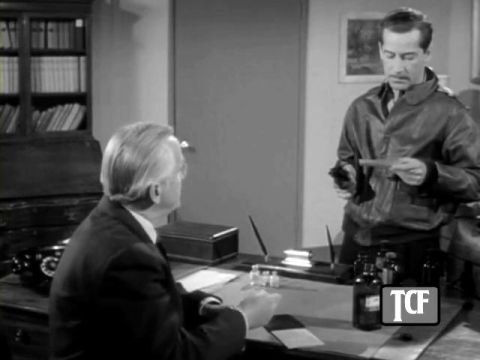 They walk into the pharmacy and the doc hands the scrip to the pharmacist.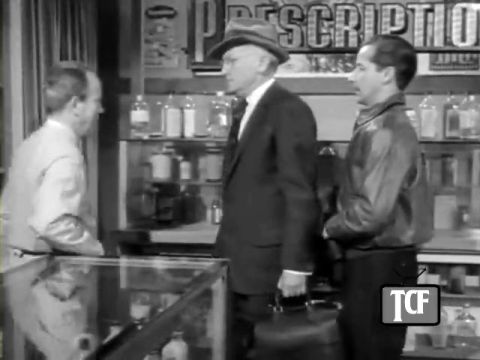 Here's what he wrote: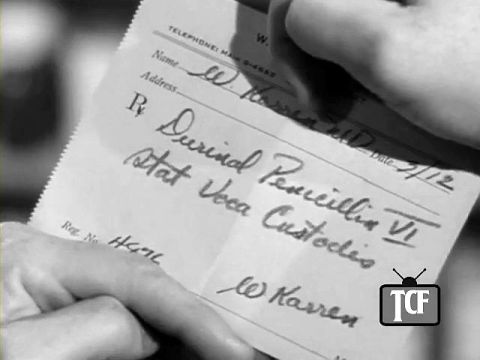 Stat
is familiar doctor jargon, but
Voca custodis
is unfamiliar Latin; it doesn't look anything like "Call police." There's no subtitle or explanation. Apparently the writers assumed someone in each household would know enough Latin to translate it. = = = = = Later sidenote: 'Highway Patrol' was especially strong on gestures and mannerisms. I noticed something in these screencaps that I didn't catch when watching the episode: The thug handles his gun in the same unconscious casual way that you'd handle a cigarette or a coffeecup. It's just another tool for him.