Dumber than an Underpants Gnome
In the famous Underpants Gnome episode of "South Park", the gnomes have a detailed business plan: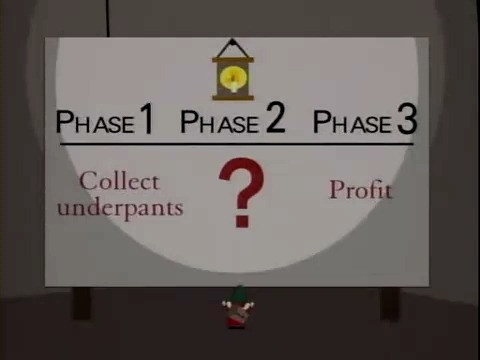 In the infamous Bushobama episode of "US Government", the Bushobama gnomes have an even more comprehensive plan for success:
Phase 1:
Invade some country because of
?Phase 2:
?Phase 3:
?
Though I've never expected Obama to
do
anything different from Bush, I really hoped that Obama would be able to
explain
what he's doing. The Bushes, father and son, have no sense of teaching or selling, no ability or desire to explain or persuade. Obama has plenty of talent in that area, but he hasn't been using it. He isn't even bothering to lie; he's just seamlessly continuing the Bush program of unstoppable robotic national suicide.